Survival of the Fashionest is a vibrant hand-knitted clothing brand founded in 2017 by Dutch designer Joost Jansen. As an ironic statement about the fashion industry and the "survival of the fittest" theory, the brand puts creativity & craftsmanship far beyond any commercial interest. The motivation behind the label is to preserve the knitwear heritage and the values of traditional craftsmanship in Europe.

Joost Jansen graduated as a product designer from the Design Academy Eindhoven where he focused on the human body and its surroundings. He was then offered a teaching position at the school where he worked for 4 years.
During his studies, Walter Van Beirendonck invited Joost to join his team where he started his professional career and became Walter's First Assistant and Production Manager for 8 years. He then moved to Henrik Vibskov where he worked as a Production and Research Manager for more than a year before deciding to launch his own label.
After working 10 years with dominant figures in the industry, Joost realized that the knowledge and skills associated with traditional artisanry and craftsmanship's are being forgotten. His motivation and long lasting dream to create the best knitwear, started when he got the opportunity to "adopt 250 grandmothers", as he says. Since then, he's been working with European knitters to create the finest garments handmade with traditional techniques, meticulous detailing and unique designs.
All sweaters are handmade in Europe made from carefully selected yarns, mainly coming from traditional spinners and have a carefully thought knitted label. Designed stitch by stitch, they take at least 3 weeks to be created. They also come in a specially designed keep-forever Box of Wonders, to store your favorite belongings.
–
PRESS FEATURES:          for press-pack click here (LO-RES)
High Snobiety – [APR/19] Article about the introduction of the brand at Opening Ceremony New York
WWD.com – [SEP/18] Article about the basement installation at Dover Street Market London's basement
DUDE Magazine – [APR/18] Cover-shoot and main article about Joost's carrier and SOTF in particular
Modern Weekly – [APR/18] Printed feature, article by Diane Pernet
ASVOF – [MAR/18] Article by Diane Pernet after visiting the showroom in Paris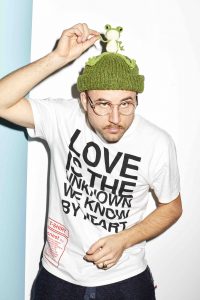 Credits:
Text by Aryana Tajdivand-Echevarria
AW1819 Campaign:
Photography by Scheltens&Abbenes
Styling by Joost Jansen
SS19 Campaign:
Photography by Joost Jansen
3D scans i.c.w. Jesse Kirschner
AW1920 Campaign:
Photography by Joost Jansen
Pots by MoroMoro, Flowers by Plant KBH
Family Portrait:
Photo by Halfdan Trolle
Styling & Concept by Joost Jansen
Models friends and family
Designer Portrait:
Photo by Valentina Vos
Website:
WebIDs
Thanks to:
SOTF team: Gergana, Veselka, Josefine, Jessica, Loret Karman
HQ: Els&Frits
Special Thank You to my 250 grandmothers