Survival of the Fashionest is a vibrant hand-knitted clothing brand founded in 2017 by Dutch designer Joost Jansen. As an ironic statement about the fashion industry and the "survival of the fittest" theory, the brand puts creativity & craftsmanship far beyond any commercial interest. The motivation behind the label is to preserve the knitwear heritage and the values of traditional craftsmanship in Europe.

Joost Jansen graduated as a product designer from the Design Academy Eindhoven where he focused on the human body and its surroundings. He was then offered a teaching position at the school where he worked for 4 years.
During his studies, Walter Van Beirendonck invited Joost to join his team where he started his professional career and became Walter's First Assistant and Production Manager for 8 years. He then moved to Henrik Vibskov where he worked as a Production and Research Manager for more than a year before deciding to launch his own label.
After working 10 years with dominant figures in the industry, Joost realized that the knowledge and skills associated with traditional artisanry and craftsmanship's are being forgotten. His motivation and long lasting dream to create the best knitwear, started when he got the opportunity to "adopt 250 grandmothers", as he says. Since then, he's been working with European knitters to create the finest garments handmade with traditional techniques, meticulous detailing and unique designs.
All sweaters are handmade in Europe made from carefully selected yarns, mainly coming from traditional spinners and have a carefully thought knitted label. Designed stitch by stitch, they take at least 3 weeks to be created. They also come in a specially designed keep-forever Box of Wonders, to store your favorite belongings.
–
PRESS FEATURES:          for press-pack click here (LO-RES)
Volkskrant Magazine – [SEP/20] Article about the philosophy and ideology behind the brand
High Snobiety – [APR/19] Article about the introduction of the brand at Opening Ceremony New York
WWD.com – [SEP/18] Article about the basement installation at Dover Street Market London's basement
DUDE Magazine – [APR/18] Cover-shoot and main article about Joost's carrier and SOTF in particular
Modern Weekly – [APR/18] Printed feature, article by Diane Pernet
ASVOF – [MAR/18] Article by Diane Pernet after visiting the showroom in Paris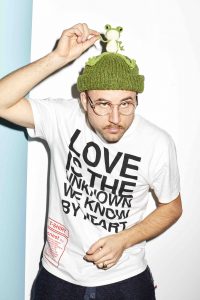 Credits:
Text by Aryana Tajdivand-Echevarria
AW1819 Campaign:
Photography by Scheltens&Abbenes
Styling by Joost Jansen
SS19 Campaign:
3D scans i.c.w. Jesse Kirschner
AW1920 Campaign:
Pots by MoroMoro, Flowers by Plant KBH
AW2021 Campaign:
Pots by MoroMoro, Flowers by Plant KBH
Family Portrait:
Photography by Halfdan Trolle
Designer Portrait:
Photo by Valentina Vos
Website:
WebIDs
Thanks to:
SOTF team: Gergana, Veselka, Josefine, Jessica, Catharina Bossaert, Loret Karman
HQ: Els&Frits
De Amsterdamse Steek and all students
Special Thank You to my 250 'grandmothers'
___
Privacy policy
1. Use
SOTF works hard to guarantee the privacy of all visitors to our website, www.survivalofthefashionest.com. The information you provide will never be shared with third parties. Please read the following privacy policy and terms of use carefully, so that you know how your information is used and protected.
By using this website and placing orders, you agree to the collection of your data and you agree to the terms of use and conditions for transfer of data in accordance with the terms of this privacy policy. Do not use the website if you do not agree to this.
2. Data that we collect from you
When you visit our website www.survivalofthefashionest.com, and you order products, you may be prompted for specific personal data, including your corporate and personal name, contact information, and credit card or bank information. SOTF has no access to your credit card or bank details and our payment system is highly secure.
However, information can be collected about the way in which you use the website and information about messages you post on the website or sent to us by e-mail or post can be stored.
Make sure you always enter a valid e-mail address. If you don't, we cannot accept your order. Let us know immediately if your e-mail address and/or delivery address is or will be changed between the time of ordering and the delivery of your order. If you don't, we cannot be held liable for non-compliance with our obligations as a result of this unannounced change.
3. Restrictions
Survival of the Fashionest is owner and operator of this website. All content on this website is secured and is subject to the laws and regulations governing copyright and trademark. Nothing from Survival of the Fashionest may be copied, transmitted, distributed, reproduced, republished or uploaded, or used for commercial purposes.
4. Use of your data
Your information will enable us to offer you access to parts of our website and deliver the goods you have ordered. They allow us to contact you when necessary in connection with your orders. We will also use and analyze the information collected to support, improve, and develop our services. More specifically, we may use your data to you to ask for your views on our services and contact you occasionally about important changes or development on our website or in our services. Moreover, we can use your data, on the basis of voluntary notification, to update you via e-mail regarding interesting products in our range. If you change your mind about this at a later time, you can let us know.
5. Termination
This agreement may be terminated by both parties at any time.
6. Access and security
You have the right to the data that we hold about you and you can ask us to make any changes to ensure that it is accurate and current.
We have security measures in place to protect your data against access by unauthorized persons and against unlawful use, accidental loss, destruction or damage. We can not guarantee that our website is always available and free from errors, nor that it will be free of viruses or any other harmful elements.
7. Standard terms and conditions of sale
Prices and conditions may vary. It is recommended that you check current prices before placing a new order. All rights, contracts, orders, and quotes comply with Dutch laws and regulations. Survival of the Fashionest is not liable for delays due to organizational problems at transport companies in the countries concerned. Survival of the Fashionest is not liable for longer delivery times, damage, or loss by the transport company.
Only credit card and bank payments are accepted on this website. You will receive an e-mail message as soon as payment has been received.
Small differences in color can occur.
Each order will be sent within the time period specified on the website. If a product is temporarily unavailable due to stock shortages, you will be immediately informed. If the ordered product can not be delivered, you will be notified by e-mail. If we fail to agree on an alternative product or if this alternative product is not available, payments already made will be refunded. Survival of the Fashionest reserves the right to remove products from the website at any time.
SOTF is not liable for the consequences of removing products from the website or for refusing to process an order.
All deliveries are sent to the delivery address specified by you on the order. SOTF is not liable for the non-delivery of a product if the delivery address is incorrect, unless it is the result of errors on our part. In the latter case, we will ensure that an replacement product will be delivered as soon as possible.
8. Special orders
SOTF can provide special editions worldwide. Please contact Survival of the Fashionest, www.survivalofthefashionest.com
9. Payment
For every order you place, you will receive an e-mail confirmation with your order number, order information, and payment confirmation (via bank or credit card).

We make sure that your order will be processed via a secure connection. However, we are not liable for any damage or loss that results when third parties gain unauthorized access the data that you send over this secure connection. The available forms of payment are listed on the website.
10. Order
The technical steps that you as a buyer go through on the website to place an order are described below: Step 1: Add the desired products to your shopping cart Step 2: create a profile with all required payment and shipping information (required fields are marked with an *). As a buyer, you are solely responsible for the accuracy of the information provided in your account. Do not place orders if this information is incorrect. Step 3: choose a payment method and confirm the order details. Step 4: enter your payment and confirm your payment details.
11. Minimum age
a) If you place an order with products for which a minimum age applies, you will be asked to declare that you are the required legal age for the purchase when placing the order.
b)If the seller discovers that the buyer does not meet the legal age requirements for ordering specific products, the seller has the right to cancel the order without notification.
12. Force Majeure
The seller is not liable for delays or non-fulfillment of their obligations if this is the result of events or circumstances that are beyond the reasonable control of the seller, including but not limited to force majeure, labour disputes, accidents, war, fire, communication, telecommunication, or computer failures, factory or machine failure or shortages, or the absence of natural resources. In such cases, the seller will be entitled to suspend their obligations.
13. Validity
The decision by a court of competent jurisdiction that any provision of these terms and conditions is invalid, unlawful, or unenforceable shall not affect the validity of the other provisions, which shall remain in full force, with the exception of the invalid or unenforceable provision, as if the agreement were entered into without the invalid, illegal or unenforceable provision.
14. Changes to the General Terms and Conditions
The seller has the right to change these Terms and Conditions at any time. However, this does not affect the conditions that are accepted by the buyer when placing an order.
15. Applicable law
The interpretation and execution of these terms and conditions shall be governed by Danish law and will be subject to the exclusive jurisdiction of the Danish courts.
Disclaimer
The SOTF webshop has been set up with the greatest possible care, but it is possible that not all information on this website at any given time is up-to-date, correct, and/or complete. The content of this website is for informational purposes only, no rights can be derived from the information – including but not limited to rate information. An exception to this is formed by the general terms and conditions of Survival of the Fashionest, from which rights can be derived, if you have explicitly accepted them when placing one or more orders. All quotes and products provided by SOTF are subject to our terms and conditions. Survival of the Fashionest reserves th right to improve other otherwise change the information on this website at any time.
www.survivalofthefashionest.com accepts no liability whatsoever for any damages resulting from the use of this site or use of the information provided on this site, unless such damage is the result of intent or gross negligence on our part. Survival of the Fashionest cannot guarantee that the information on this website is suitable for the purpose for which you have consulted it.
All rights reserved. No textual and/or graphical representation of this website may be reproduced or published in any form or by any means, or stored in an automated (data) file, without the prior written permission of Survival of the Fashionest.
Survival of the Fashionest shall not be liable for any misuse by third parties of information protected by copyright.
Delivery & Return policy
On this page you will find the conditions for delivery, payment and return for
Survival of the Fashionest ApS, registered at the CVR number 42175021
VAT nr: DK 042175021
1. General
The following delivery and payment conditions apply to all of our deliveries and services.

All rights, obligations, quotes, orders and agreements to which these general terms and conditions apply, as well as these conditions, are exclusively governed by Danish law.
2. Prices
All prices are including 25% VAT.
3. Shipping costs
Shipping costs will be added to your order and are automatically calculated.

We will ship your order as a package.

You cannot add more packages after placing your order.

Eventual custom clearance costs and import duties are for the buyer.
4. Payment
After placing your order, you will receive an order confirmation via e-mail with an overview and an order number. Please read these carefully, any mistakes have te be reported within 3 days after the order is placed.

Orders will only be delivered after receipt of payment.

You can pay online directly using iDEAL, PayPal, or with Visa/Mastercard.
5. Shipment
All items will be transferred to the shipping courier after receipt of the approved payment.

You will receive a shipment confirmation via e-mail that will include a track-and-trace code.

Survival of the Fashionest is not liable for exceeding the stated delivery times or loss and/or damage.

Changes and/or cancellation within placed orders can only be made with the consent of the seller.

6. Returns
If you're not satisfied, we'll fix it! We like to have satisfied customers and treat your sweater with the utmost care. If you are not satisfied, let us know within 10 business days after receipt by e-mail. Together we'll discuss how we can solve your issue quickly and completely.
Return shipping costs are for the buyer to be paid.
Sales items can not be returned.

7. Liability
Survival of the Fashionest is not liable for damage that may have resulted from the use of the products we've delivered. Survival of the Fashionest shall not be liable for any damage, either physical, material, or immaterial, resulting from misuse of the products we sell.

Survival of the Fashionest shall not be liable for damage to items caused during the stitching process.

The content of this site has been composed with care. Survival of the Fashionest however, cannot guarantee that certain information is not incorrect and/or incomplete. Survival of the Fashionest is not liable for the consequences of incorrect or incomplete information on their website.

Survival of the Fashionest cannot be held responsible for color deviations resulting from display quality.

Survival of the Fashionest is not liable for any consequences of delayed order delivery.

8. Questions/complaints
Survival of the Fashionest aims to have satisfied customers. If you have any questions, comments, or suggestions, we'll be happy to discuss these with you.
Complaints must be sent by registered mail, within 5 working days after receiving the products.

9. Copyright
1. Survival of the Fashionest holds the exclusive rights for sales and production of these products.
2. All rights reserved. Nothing from this website may be copied, stored or distributed without written permission from Survival of the Fashionest.